Writer's Block Philippines' Founders
Ana P. Santos
Ana has had over 12 years experience in advertising and marketing communications. In 2010, she left her position as Assistant Vice President of a financial institution to pursue a career as a writer.
As an independent journalist covering sexual health rights and women in armed conflict, Ana has received media grants from Newsbreak, Probe Media Foundation and the Philippine Press Institute to cover population and development issues.
Most recently, she was awarded the 2014 Persephone Miel Fellow by Pulitzer Center on Crisis Reporting. For her multi-media project, "Who Takes Care of Nanny's Children?", Ana wrote a series of stories about migrant mothers in Dubai, UAE and Paris, France
Nikka Sarthou-Lainez
Nikka has over 10 years of experience in writing for various online and print publications, as well as developing content for corporate clients.
She is currently a full-time freelance editor/writer handling independent projects and corporate accounts. She is also a Contributing Editor in Smile, the in-flight magazine of Cebu Pacific Air.

Guest Speakers
Anton Diaz
Anton Diaz worked for the biggest multinational company in the Philippines for 12+ years, straight out of college, before becoming a full time Online Entrepreneur.
He was the Chief Information Officer of Procter & Gamble Philippines when he finally quit his day job and decided to take his blog, Our Awesome Planet, to the next level in 2008.
OurAwesomePlanet.com, which he started in 2005, is the #1 food and travel blog in the Philippines with close to 1,000,000 hits in 1.5 months, 120,000+ followers and 10,200+ readers, and is still growing. His advocacy is to promote the "Food and Travel Secrets in teh Philippines" and to inspire Filipinos that living in the Philippines is truly awesome!
Darlyn Ty
Eight years ago, Darlyn Ty first offered Viviamo Inc.'s first planner product, Belle De Jour Power Planner.
Today, Belle De Jour is more than just a planner but a community aimed to empower women to try, dare, achieve, discover and live their best lives. Through ilovebdj.com, Darlyn is encouraging conversations among girls from topics ranging to make up to fashion to career.
Michael Josh Villanueva
Michael Josh Villanueva is a multimedia journalist, digital strategist and social media evangelist.
He's spent the last 15-years working in broadcast and online media specializing in content creation, technology, video, social media and mobile.
He served as Rappler's Director for Special Projects, Editor of the Technology Section and produces and anchors the weekly technology web show TechRap.
Prior to Rappler, he spent a decade with broadcast network GMA 7 as Senior Manager for Digital News Gathering and Social Media.
His current pursuits include producing gadget reviews on the Youtube technology channel Gadget Match.
Mina V. Esguerra
Mina V. Esguerra writes contemporary romance, young adult, and new adult novellas. Through her blog Publishing in Pajamas, she documents her experiments in publishing.
When not writing romance, she is president of communications firm Bronze Age Media, development communication consultant, indie publisher, professional editor, wife, and mother. She created the workshop series "Author at Once" for writers and publishers, and #romanceclass for aspiring romance writers.
Her young adult/fantasy trilogy Interim Goddess of Love is a college love story featuring gods from Philippine mythology. Her contemporary romance novellas won the Filipino Readers' Choice awards for Chick Lit in 2012 (Fairy Tale Fail) and 2013 (That Kind of Guy).
Contact her at minavesguerra@gmail.com / @minavesguerra on Twitter.
RJ Ledesma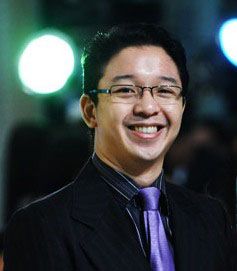 RJ Ledesma wears a lot of hats. He was the Best Male Emcee of the 2012 Aliw Awards, a professional event and wedding host, host of Best Men on GMA News TV, co-founder and organizer of Mercato Centrale, editor-in-chief of UNO Magazine, lifestyle columnist for the Philippine Star, honorary Vice Consul of Monaco to the Philippines, executive vice president of Ledesco Development Corporation, best selling author of five books, certified Ashtanga Yoga Vinyasa instructor, doting father and husband.
A collection of his articles from his Sunday column Pogi From A Parallel Universe for the Philippine Star, all of RJ Ledesma's books are best sellers, with Is It Hot In Here Or Is It Me? and It Only Hurts When I Pee making it as finalists in the National Book Awards.
Vince Golangco
Vince Golangco graduated from San Diego State University. He is the Founder & Publisher WhenInManila.com, the top online magazine in the Philippines that boasts over 8 million impressions per day.
Vince is also a TV & events host, radio DJ, surfer, skater, blogger, US Military Vet, San Diego State University alumni, AKΨ, JCI, Yes-Man. See his portfolio here VinceGolangco.com/portfolio or connect with him on Twitter/Instagram @VinceGolangco
Writer's Block Philippines will hold the Creative Entrepreneurship Summit on Jan. 31 at Top Shelf, Fully Booked, Bonifacio Global City. For more information, please see our Guide to Frequently Asked Questions.